Raising chickens isn't as easy as it may sound. They require more than just a space to roam around in. If you're interested in raising chickens on your land, but not sure where to get started, then you've come to the right place. First and foremost, before beginning to collect your chickens, you want to find the best chicken coop.
What is a Chicken Coop?
Don't get too caught up on the word coop. This just refers to the structure that your chickens will live in. Now that you've learned that, I'm guessing you can imagine many different possibilities of what a chicken coop might look like there. You're right. There are many variations. The design of the right chicken coop for you will depend on a number of factors.
How Big Should My Chicken Coop Be?
The size of chicken coop that you need depends largely on one thing. You guessed it. The number of chickens you're planning to house! If you are looking to house many chickens together, then one thing you want to be sure of is that they will have extra space, such as a run.
The number of chickens you're housing isn't the only important factor in deciding size, however. You also have to consider what type of chickens you will be housing in your coop. Different chickens are different sizes, which means you will need a coop that accommodates your specific group of chickens.
What Materials Are Chicken Coops Made From?
Chicken coops can be made from a variety of building materials. Some of the most common constructions you will see are made from the wood of various types. The wood creates a sturdy chicken coop that will last through time and varying weather conditions.
You may also come across chicken coops that are made from metal materials, some of which resemble wire fencing. These chicken coops are also extremely durable, as you can imagine. They are unlikely to endure too much wear and tear even if you house a large number of chickens.
It is even possible to build your own chicken coop from recycled materials, once you understand what you really need in terms of the structure of your chicken coop. There are many possibilities in terms of the materials used to construct a chicken coop.
Wood and metal chicken coops will provide you with the strongest and most reliable housing for your chickens.
What Features Should I Look for in My Chicken Coop?
Deciding on which chicken coop to use may not be as simple as you imagine. There are many features that you need to examine in order to choose the chicken coop which will fit your specific needs and the needs of your chickens correctly.
It is easy to assume that chicken coops are basic structures without many features to consider. But it is not only the structure of your chicken coop which matters. Successfully housing chickens in a chicken coop requires technique and finesse.
Here are some of the features you should consider when searching for the best chicken coop for you:
Space: You need to make sure that you choose a chicken coop that allows enough space for the number of chickens you want to house. Chickens do not want to feel cramped in their space, and so it is best to accommodate a bit more space than you calculate to be necessary.
Protection: As you know, there are many animals that prey on chickens. You want to ensure that your chicken coop is well protected against possible attacks. This means sufficiently covering window and door openings with a sturdy wire mesh.
Ventilation: Yes, your chickens want ventilation just as you do. With many chickens sharing the same space, the air will become stale. Your chicken coop needs enough windows so that your chickens have access to fresh, breathable air at all times. Ideally, your windows will be higher up on your coop for colder or wet weather.
Nesting Boxes: Your chicken coop should be equipped with enough nesting boxes for the number of chickens you are housing. Consider the ease of access for you to nesting boxes, as well, for egg collection.
Cleaning: Think about the structure of your chicken coop. You want it to be reasonably manageable for you to go inside and clean when necessary. Chicken coops get dirty easily and will require basic daily cleaning.
Storage Space: You can make your life easier by investing in a chicken coop which includes adequate storage space for chicken feed, cleaning supplies, and bedding material such as hay.
Use these important features as a buying guide during your search for the best chicken coop for you. It will streamline your search process and clarify your needs.
Top 10 Best Chicken Coops For Sale Reviews
Now that you have learned more about chicken coops and what you want to look for during your search, it's time to start checking out different products. Here is a list of the top 10 best chicken coops. Examine each coop for your desired features, and see which one will be your choice.
Confidence Pet 62" Rabbit Hutch / Chicken Coop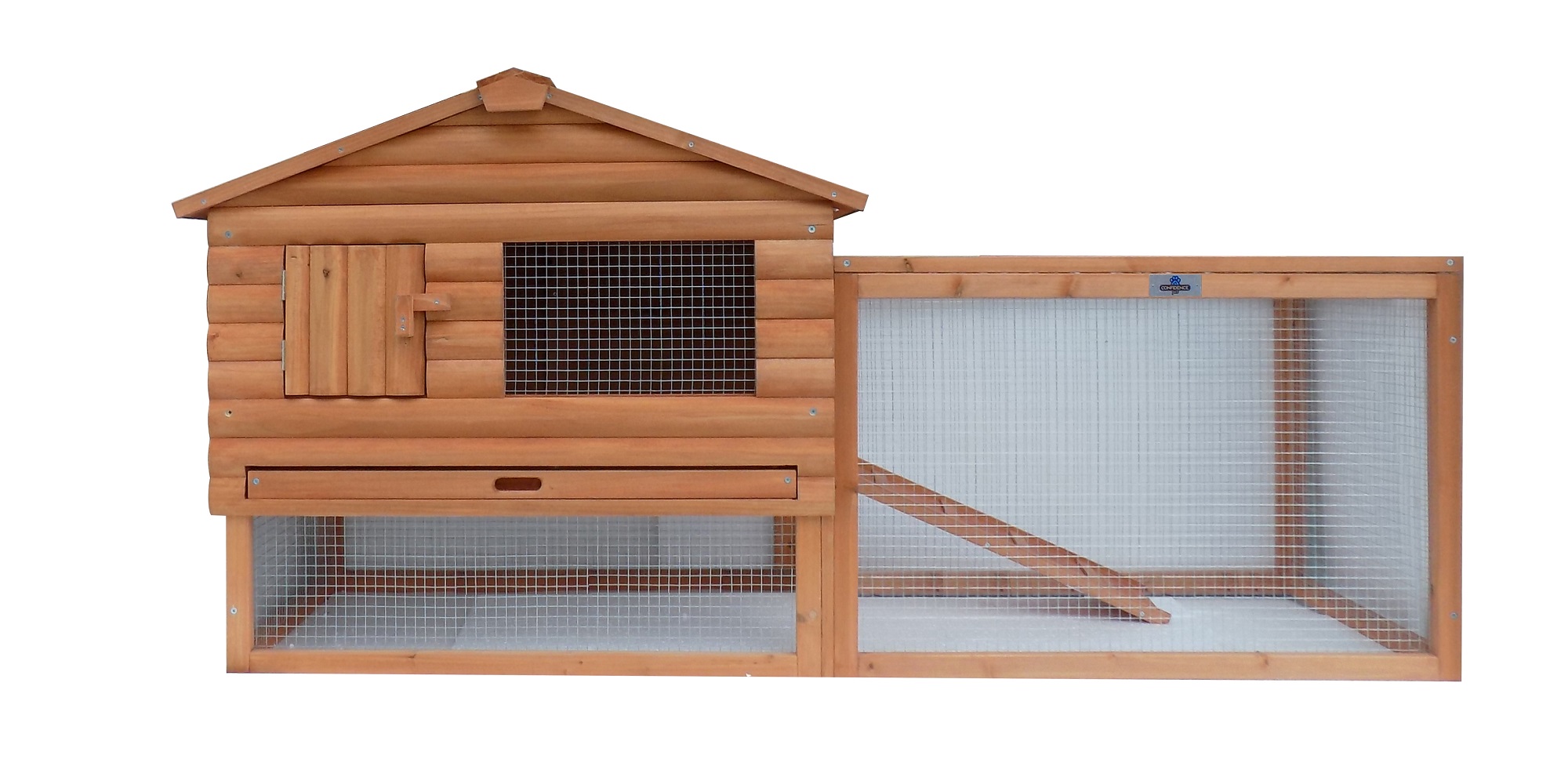 The Confidence Pet Chicken Coop is made from furniture-grade wood and has a waterproof finish that will protect the quality of the coop during rainy or snowy weather. With a built-in run space, your chickens will be able to stretch their legs while being housed in the coop.
While there is plenty of ventilation, the windows and run space are protected from potential danger with heavy-duty steel wire. While you'll be able to fit a decent number of baby chicks in this coop, as they get older, you may need to add another coop to your collection for more comfortable housing, as this coop is best for about 4 or 5 grown chickens.
At nearly 4-feet tall and made with lightweight cedar, you will be able to change the location of this coop easily if you must.
Merax Chicken Coop Rabbit Hutch Wood House Pet Cage for Small Animals
A chicken coop that is great for 4 to 5 grown chickens, the Merax Chicken Coop boasts a double-level design. With the main coop on the upper level, your chickens will use the built-in ramp to go down to their run space, or resting room.
The Merax Chicken Coop is made from cedar wood with a waterproof layer of paint to protect against damaging weather. A big plus for you is the tray under the hutch, which has an easy-to-pull-out handle for fast and effortless cleaning.
There are two nesting boxes for your chickens to use, and when you want to encourage rest, you can roll up the ramp so that your chickens stay inside the main coop. Don't worry about constructing this chicken coop, it is simple for two people to put together.
Pawhut 91″ Deluxe Large Wooden Bunny Rabbit Hutch / Chicken Coop w/ Outdoor Run
The Pawhut Chicken Coop is a great option for housing your chickens. It provides convenience to both you and your chickens with easy access doors in the front of the coop for you to reach your chickens, and 2 ramps from the main coop from which your chickens can make their way down to the run space.
This chicken coop has a pull-out tray which makes cleaning an easy task. You will find that it will not take you long to assemble and your chickens will be housed in no time. The roof of this chicken coop is especially sturdy and protects against bad weather. If you find that the weather is extreme and you need more protection, you can always put a tarp on top of the coop.
While this coop does not have built-in nesting boxes, they will be very simple to attach.
TRIXIE Pet Products Chicken Coop with Outdoor Ru n
The TRIXIE Chicken Coop provides cozy housing for 2 large grown chickens. It includes a nesting area that has a hinged roof for easy checking and a removable divider for separate or joined nesting.
The main part of the coop also contains a roosting pole, which you can remove if you prefer. A sliding door that can be closed for sleeping times, opens to a ramp which your chickens will take down to their run space.
The TRIXIE Chicken Coop provides easy access to your eggs, simple cleaning, and you won't spend too much time putting it together. It is a good chicken coop to have on your land.
Also, see: https://kitchenhow.com/chicken-egg-incubator
Pawhut Wooden Backyard Poultry Hen House Chicken Coop – Green
With a large run space, the Pawhut Chicken Coop is a great option for allowing your chickens to allow the good weather, even while they are spending time in their coop. This coop has a spacious nesting area with a hinged roof so that you can easily access the eggs your chickens lay. Your chickens will also appreciate the roosting pole in the main space for their optimal comfort.
Not only is the wood of this chicken coop painted green for aesthetics, but it's also treated so that it will be durable in bad weather, and last longer overall. The asphalt roof is especially protective against various weather conditions.
Assembly and cleaning are reasonably simple, and you will appreciate the heavy-duty wire that covers ventilated openings to protect against any predators.
Merax Wooden Pet House Rabbit Bunny Wood Hutch House Dog House Chicken Coops Chicken Cages Rabbit Cage
Another option from reliable brand Merax, this chicken coop is smaller and makes a good space for a small number of chickens, or a mother with her baby chicks. The chicken coop is made from high-quality fir wood and is finished with waterproof paint for weather protection. The room is also specially designed to protect your chickens in cases of bad weather.
The run space and ventilated areas are protectively covered with very strong wire mesh so that no predators can harm your chickens. There's a tray that pulls out for easier cleaning and you will not struggle to assemble this chicken coop.
Your chickens will enjoy their comfortable and airy chicken coop and you will enjoy happier chickens and tastier eggs.
Best Choice Products 80″ Wooden Chicken Coop Backyard Nest Box Wood Hen House Poultry Cage Hutch
The Best Choice Chicken Coop will make your chickens feel like they have a grand space, with its higher roof. The coop is constructed with good quality fir wood which has been treated to be waterproof in the case of bad weather. Even the run space has a roof to protect your chickens if it rains!
This chicken coop provides you with very easy access to your chickens and the eggs they lay. There are doors on both the main coop space and the run space, and the nesting area is covered with a hinged roof.
Don't worry about any restless chickens trying to break out of their coop at night, it is secured with a metal locking system. The Best Choice chicken coop is an easy-to-assemble, reasonably priced option for housing your chickens.
SmithBuilt 7 ft. Wooden Two Story Chicken Coop
The SmithBuilt Chicken Coop is an extremely sturdily built coop made from fir wood that is water and pest-resistant. The roof is made from durable asphalt that will withstand even the worst of weather.
The construction of the SmithBuilt chicken coop is very helpful for you in terms of having access to your chickens. There are doors to the main coop space and the run space in addition to a roof that can be opened, and a hinged door to the nesting area.
The chicken coop is simple to assemble, affordable, and reliable in providing your chickens with a comfortable place to house and sleep.
Pawhut 72 in. Deluxe Wooden Chicken Coop Hen House with Outdoor Run
Another practical option from Pawhut, this chicken coop is made from strong fir wood that is weather protected. Putting your chickens in and out will be very easy with this coop which opens from all access points including the roof and nesting area.
Your chickens will appreciate the ability to head down into the run space to walk around while they spend time in their coop. Though easy to assemble, this chicken coop is sturdy and will last for years.
Don't worry about struggling to keep the coop clean, the pull-out tray helps with that. This Pawhut chicken coop is an affordable option for comfortably housing your chickens.
Confidence Pet 36" Rabbit Hutch / Chicken Coop
If you're just starting to experiment with housing chickens, and you have one who needs a comfortable space, then this is the perfect choice for you. The Confidence chicken coop is small, but constructed from strong wood with a waterproof finish.
Your large chicken or small chickens will find space for roosting and nesting. When they want to change their location, they can make their way down to the small run space. This chicken coop is very easy to clean with its pull out tray, and access to your chickens and their eggs is convenient with a roof that opens.
This is a very reasonably priced option if you're looking to begin housing chickens and want to see how it feels for you.
Next Steps
You've learned about chicken coops and what to look for when you search for one. You've seen the top 10 best chicken coops available. Now it's time for you to decide which is the right one for you. Think about how many chickens you're looking to house and your unique circumstances. The right chicken coop for you is out there!
Maybe You Like: Best Chicken Plucker for Sale 2021